Mark Davidson conceived and founded the Tech Toybox based on his long history of technology based entrepreneurship. It grew from a combination of his consulting, Instrumenation startups, and his long standing position at the University of Florida as the Associate Director of the Microfabritech Center, overseeing the daily operations and users of their central processing facility, while running his research and graduate education programs.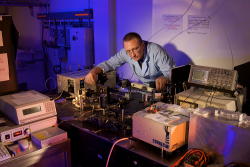 Mark graduated with a Ph.D. in Chemical Engineering in 1990, and soon afterwards started a company focused on design and fabrication of custom instrumentation, primarily that for vacuum systems. This was a successful business with 3 employees for 4 years. In 1994, he began managing a large project with Prof. Paul Holloway, the director of Microfabritech at the University of Florida. Mark continued in that position, while also running his instrumentation company and consulting on other ventures, co-founding several more companies along the way.
In 2008, Mark and his staff began a systematic re-evaluation of Microfabritech's talents to identify ways in which they could better serve the community. One talent which had been previously undocumented was prototyping. After many years of running grant R&D programs, Microfabritech had developed in-house capabilities for manufacturing early stage, proof-of-concept prototypes as deliverables for research contracts. This talent for quickly making early stage prototypes, he realized, was a perfect match to the most difficult and error-prone part of the technology startup process.
When a group of people start a company around a new technology, one of the first items on the agenda is to demonstrate it. The demonstration does not have to be pretty, but it needs to show potential investors that the concept is functional. It most often involves a variety of engineering and science disciplines, as well as skills and facilities for the hands-on design-test-modify cycle. Traditionally, this either involves many outside contractors, or the development of in-house talent and facilities--both of which are expensive and time consuming. In fact, this is so fraught with peril for the startup, that it is known in entrepreneurial circles as the "technology valley of death." Mark realized that we could enable companies to rapidly cross the technology valley of death by offering the talents and facilities as a service--lowering the barrier to commercialization.
Rapidly, many in the University of Florida community were interested and we began working on projects with 3-4 month timelines schedule for completion. The time lines were almost always kept to 3-4 months for most projects, since that simulates the time in which most early stage startups either succeed with their demos or fail. It began with some small student projects and the program rapidly expanded to include larger projects--at some times involving 12-15 people working in small groups on 6-8 projects. The projects ranged from student ideas for fishing equipment, to full-scale testing and development of improved deep-brain-stimulation devices for use in treatment of Parkinson's disease.
During the scale up, Mark recognized the larger value of the program--education. By participating in this rapid, early-stage, proof of concept development, students and interns were learning how to be entrepreneurs.
The program contiued to grow, and in 2012, it transitioned out of the UF community, allowing easier access to the entire entreprenuerial economy (both inside and outside UF). We have now teamed up with Santa Fe College's CIED center and other local entrepreneurs to provide the services and entrepreneurship education to the larger community, and are rapidly expanding to offer services across Florida and beyond. We are currently located in Gainesville, FL. We are growing our capabilities in this location, but anticipate expansion to other locations across the country in the future.
Florida Tech Toybox, Inc. looks forward to lowering barriers to new startups, while teaching budding entrepreneurs using real-world projects. We are providing creative and research space, as well as guidance, or full service development. The ultimate goal is improvement of communities through education--particularly that related to tech startups.